Replacement exhaust system silencer Prinz 4
Note two things about changing the exhaust silencer.
1. Never turn the retaining nut with the studs from
the cylinder. Reversing is difficult, because the cooling
air ducting plate partially closes the threaded hole.
Use a nut splitter tool and use new nuts.
2. Never substitute a NSU stud for a standard stud M8.
Check all three engine support rubbers, if weak replace immediately.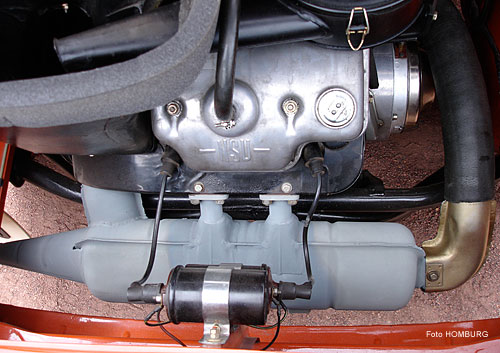 Remove exhaust silenser - heat exchanger
Remove the 6 nuts M8 outlet preferably with a nut splitter tool. This keeps the studs in the cylinder head. The threads of the stud in the cylinder head is fine M8 (M8x1) and the other side standard M8 (M8x1, 25).
Remove the 2 lower bolts M10 x 22 slw17 from the exhaust brackets.
Make sure the support bolt is not twisted, pictured below. Bolt 19 mm hexagon.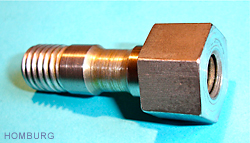 Support bolt for exhaust silencer and motor rubber support
The two mating surfaces are fitted in the aluminum engine support. The external thread M12 for the engine support rubber.
On the right, the exhaust support bracket with M10 x 22 bolt is fitted with a locking plate and fiber rings.
Reassembly the exhaust silencer
Always use new exhaust gaskets. The exhaust gaskets behind the cladding can usually sit. Grease the studs with graphite. Always use new M8 nuts with lock washers or special copper-plated self-locking nuts M8 (slw12 or 13). Use new washers for the two M10 bolts x 22 and place the 4 fiber rings. The fiber rings prevent the heat transfer from the exhaust to the engine. The exhaust bolts should be checked after 500 km and tightened again.
CONSIDERATIONS
Check the two rear engine support rubbers and front engine support rubber.
Slack engine support rubbers should always be replaced.
Check the connection of the heater hose to the aluminum manifold.
Check the rubber seal on the valve of the aluminium manifold.