Setting the ignition and timing

The ignition order is 1-3-4-2
Flywheel marks
The Top Dead Centre (TDC) timing mark is located
on the flywheel and situated besides the zero-mark.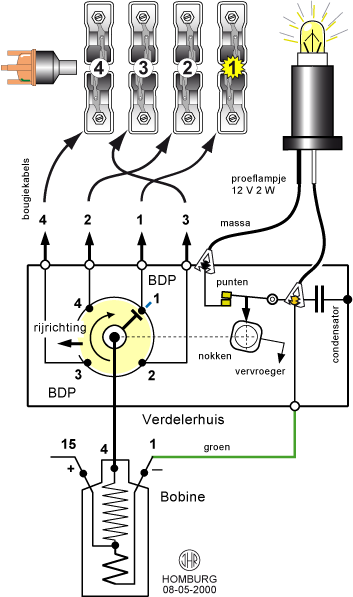 Order of steps
STEP 1
Remove the distributor cap and the rotor arm
Adjust the contact cap between 0.40 and 0.45 mm with a screwdriver
Option: to adjust the cap it is much easier when the distributer has been removed
Connect the green lead from the ignition coil to the capacitor after placing the distributor
STEP 2
Turn the crankshaft in his normal direction of rotation counter clockwise (ccw) until the right timing mark, before the Top Dead Centre (TDC)
The rotor arm firing position is situated on number 1 or 3 (see the left drawing).
Degrees before TDC: 4 degrees for 1000 and 1200 - 3 degrees for TT -
0 degrees for TTS
STEP 3
Slacken the distributor clamp nut and turn the distributor body in the same direction as the rotor arm. The top of the distributor body should be rotated to the rear of the car
Connect the test lamp (2 Watt 12 Volt) to the capacitor connecter and a earth point (see the drawing)
Turn the ignition starter switch on Fahrt (start)
Turn the top of the distributor body slowly to the front of the car and when the test lamp lights (the points going open) stop turning
Tighten the distributor clamp nut to lock the distributor in this position
Check the ignition timing by turning the crankshaft 2 revolutions ccw
Turn the ignition starter off (Halt)
Remove the test lamp, refit the rotor arm and the distributor cap and the rubber cap.
Tools
Feeler gauge 0.40 and 0.45 mm
Screwdriver
Spanner 32 (rotating crankshaft)
Test lamp 12 Volt - 2 Watt
Attention for maintenance
Chain
Check the play of the chain every 7.500 km
No clearance is aloud
Check the valve clearances after 7.500 km
Contact points
Clean the points before fitting and lubricate the pivot with grease
Lubricate the distributor cam with grease
Rotor and distributor cap
Keep the distributor cap clean inside. Check the contacts.